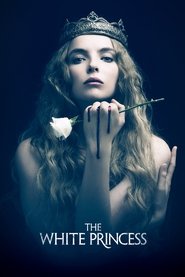 The White Princess
The story of Elizabeth of York, the White Queen's daughter, and her marriage to the Lancaster victor, Henry VII. Based on the Philippa Gregory book of the same name.
Episodes: 5
Status: Returning Series
Seasons: 1
All Episodes
You may also like
Pretty Little Liars
Based on the Pretty Little Liars series of young adult novels by Sara Shepard, the series follows the lives of four girls — Spencer, Hanna, Aria, and Emily — whose clique falls apart after the disappearance of their queen bee, Alison. One year later, they begin receiving messages from someone using the name "A" who threatens to expose their secrets — including long-hidden ones they thought only Alison knew.

Country:
Genre:
Psych
Thanks to his police officer father's efforts, Shawn Spencer spent his childhood developing a keen eye for detail (and a lasting dislike of his dad). Years later, Shawn's frequent tips to the police lead to him being falsely accused of a crime he solved. Now, Shawn has no choice but to use his abilities to perpetuate his cover story: psychic crime-solving powers, all the while dragging his best friend, his dad, and the police along for the ride.

Country:
Genre:
Empress Ki
The story of the woman that would become Empress Ki, and her struggles as she worked her way through war, political conspiracies, and the imperial palace to become Empress of China. This Korean Drama re-imagines the historical figure as a fierce, independent woman who goes to extreme lengths to protect those she loves.

Country:
Genre:
Travelers
Hundreds of years from now, the last surviving humans discover the means of sending consciousness back through time, directly into people in the 21st century. These "travelers" assume the lives of seemingly random people, while secretly working as teams to perform missions in order to save humanity from a terrible future.

Country:
Genre:
Casualty
Casualty, stylised as CASUAL+Y, is a British medical drama television series that airs weekly on BBC One, and the longest-running emergency medical drama television series in the world. Created by Jeremy Brock and Paul Unwin, it was first broadcast on 6 September 1986, and transmitted in the UK on BBC One. The original producer was Geraint Morris.
The programme is based around the fictional Holby City Hospital and focuses on the staff and patients of the hospital's Accident and Emergency Department. The show has very few ties to its sister programme Holby City which began as a spin off from Casualty in 1999 and is set in the same hospital, but upstairs. The show's plots and characters occasionally crossover between the two programmes, but this is rare, and each show can easily be followed without having to watch the other. Casualty is shown weekly on a Saturday evening, which has been its time slot since the early 1990s.

Country:
Genre:
Covert Affairs
A young CIA operative, Annie Walker, is mysteriously summoned to headquarters for duty as a field operative. While Annie believes she's been promoted for her exceptional linguistic skills, there may be something or someone from her past that her CIA bosses are really after. Auggie Anderson is a CIA military intelligence agent who was blinded while on assignment and is Annie's guide in this world of bureaucracy, excitement and intrigue.

Country:
Genre:
Sons of Liberty
A radical group of young men band together in secrecy to change the course of history and make America a nation.

Country:
Genre:
Chicago P.D.
A riveting police drama about the men and women of the Chicago Police Department's District 21 who put it all on the line to serve and protect their community. District 21 is made up of two distinctly different groups: the uniformed cops who patrol the beat and go head-to-head with the city's street crimes and the Intelligence Unit that combats the city's major offenses – organized crime, drug trafficking, high profile murders and beyond.

Country:
Genre:
Being Human
Three paranormal roommates, a ghost, a vampire, and a werewolf, struggle to keep their dark secrets from the world, while helping each other navigate the complexities of living double lives.

Country:
Genre:
Lucky 7
What would you do if you won the lottery? How would it change your life? Follow a group of seven gas station employees in Queens, New York, who have been chipping into a lottery pool for years, never thinking they'd actually win. They need to be careful what they wish for, because while the money could solve problems for each of them, it will forever change the close-knit bonds these friends have formed.

Country:
Genre:
Uncontrollably Fond
When Shin Joon-Young and No Eul were children, they were separated and became heartbroken. As adults they meet again. Shin Joon-Young is now a top actor and singer. He is intelligent and attractive. No Eul is the PD of documentaries. She values money over justice and kisses up to those with more power than her.

Country:
Genre:
Castle
After a serial killer imitates the plots of his novels, successful mystery novelist Richard "Rick" Castle receives permission from the Mayor of New York City to tag along with an NYPD homicide investigation team for research purposes.

Country:
Genre: