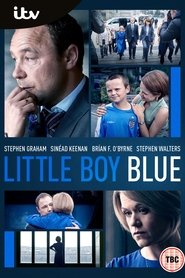 Little Boy Blue
Based on a true story, this four-part drama tells the story of the murder of 11-year-old Rhys Jones in Croxteth, Liverpool, in 2007. It explores Melanie's and Steve's ordeal, and tells of how Rhys' murderer and associates were eventually brought to justice.
Episodes: 3
Status: Returning Series
Seasons: 1
All Episodes
You may also like
The Flower in Prison
Jeonokseo, the most horrifying prison in Joseon, is where Ok Nyeo was born. This genius girl learns the art of living from the most eccentric people of the time. Despite the difficulties, Ok Nyeo grows up to introduce a human rights institution of Joseon to protect the weak.

Country:
Genre:
Black Work
'Black Work' is the story of Jo Gillespie, a woman who's husband is shot dead in the line of action, in his job as a undercover cop. Jo, a police officer herself soon has to confront issues in her marriage and family life in order to discover who really killed her husband.

Country:
Genre:
Gap Year
It's the story of British lads Dylan and Sean, childhood friends who have drifted apart, who initially set out to backpack through China but end up taking on the whole continent.

Country:
Genre:
Alcatraz
Alcatraz is an American television series created by Elizabeth Sarnoff, Steven Lilien and Bryan Wynbrandt, and produced by J. J. Abrams and Bad Robot Productions. The series premiered on Fox on January 16, 2012, as a mid-season replacement. Switching between eras, the series focuses on the Alcatraz prison, which was allegedly shut down in 1963 due to unsafe conditions for its prisoners and guards. The show's premise is that both the prisoners and the guards disappeared in 1963 and have abruptly reappeared in modern-day San Francisco, where they are being tracked down by a government agency. The series starred Sarah Jones, Jorge Garcia, Sam Neill and Parminder Nagra. The show was cancelled on May 9, 2012.

Country:
Genre:
Minority Report
Minority Report follows the unlikely partnership between a man haunted by the future and a cop haunted by her past, as they race to stop the worst crimes of the year 2065 before they happen. Set in Washington, D.C., it is 10 years after the demise of Precrime, a law enforcement agency tasked with identifying and eliminating criminals… before their crimes were committed. To carry out this brand of justice, the agency used three precogs – "precognitives" Dash, Arthur and Agatha – who were able to see the future. Now, in 2065, crime-solving is different, and justice leans more on sophisticated and trusted technology than on the instincts of the precogs.

Country:
Genre:
Feed the Beast
For two friends on the brink of losing everything, a dusty pipe dream of opening up an upscale restaurant in their hometown of the Bronx is all they have left to turn their lives around. Together, they take on the insanity of the New York restaurant world, and navigate its underbelly of petty criminals, corrupt officials and violent mobsters.

Country:
Genre:
Twisted
A one-hour mystery full of twists and turns that follows Danny Desai, a charismatic 16-year-old with a troubled past who returns to his hometown after spending five years in juvenile detention. Immediately branded an outcast, Danny attempts to reconnect with his two childhood best friends, Jo and Lacey. But when a fellow student is found dead in her home, Danny instantly becomes the prime suspect and town spirals into a frenzy of suspicion and mystery. Jo and Lacey must decide if their childhood friend is unforgivable, or if he's really a victim being persecuted for his own twisted secrets.

Country:
Genre:
The Family
This thriller follows the return of a politician's young son who was presumed dead after disappearing over a decade earlier. As the mysterious young man is welcomed back into his family, suspicions emerge — is he really who he says he is?

Country:
Genre:
Private Eyes
Ex-pro hockey player Matt Shade irrevocably changes his life when he teams up with fierce P.I. Angie Everett to form an unlikely investigative powerhouse.

Country:
Genre:
Blood & Oil
Billy and Cody LeFever dream of a new life and move to "The Bakken" in North Dakota, booming after the biggest oil discovery in American history. They're soon pitted against a ruthless tycoon who forces them to put everything on the line, including their marriage.

Country:
Genre:
666 Park Avenue
What would you do to have everything you desire? Step inside 666 Park Avenue, New York's most seductive address. We all have some burning needs, desires and ambitions. For the residents of The Drake, the premier apartment building on Manhattan's Upper East Side, these will all be met – for a price – courtesy of the building's mysterious owner, Gavin Doran. But be careful what you wish for, because the price you have to pay is your soul.

Country:
Genre:
Mad Dogs
Mad Dogs is a British black comedy and psychological thriller television series created by Cris Cole that began airing on Sky1 on 10 February 2011. It is produced by Left Bank Pictures, and co-produced by Palma Pictures. The series stars John Simm, Marc Warren, Max Beesley, and Philip Glenister as four long-time and middle-aged friends getting together in a villa in Majorca to celebrate the early retirement of their friend Alvo. However, after Alvo is murdered, the group find themselves caught up in the world of crime and police corruption.
The series was initially a story about a rock band, but changed after a feeling that bands have been "done to death". After gaining interest from some terrestrial networks, the series was commissioned by British Sky Broadcasting. Filming took place on location throughout the island of Majorca in May 2010, and took around four million euros and 44 days to make. The main themes are friendship and growing older; Glenister said it is about ageing and "getting closer to death". Photographer David LaChapelle directed three 30-second advertisements for the series. Mad Dogs opened with 1.61 million viewers, the 17th highest rated programme ever for Sky1, and attracted positive reactions from critics. They noted similarities with British gangster films, more predominantly the 2000 film Sexy Beast.

Country:
Genre: