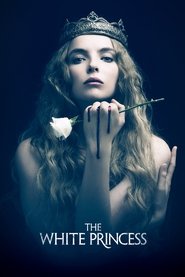 The White Princess
The story of Elizabeth of York, the White Queen's daughter, and her marriage to the Lancaster victor, Henry VII. Based on the Philippa Gregory book of the same name.
Episodes: 5
Status: Returning Series
Seasons: 1
All Episodes
You may also like
Rederiet
Rederiet was a long-running Swedish soap opera that aired on Sveriges Television between 1992 and 2002. The cast featured many popular and renowned Swedish actors, and the show has often been referred to as Sweden's version of Dynasty.
The 45-minute episodes were broadcast weekly on Thursday nights on the public-service channel SVT1 and normally had between one and two million viewers. For ten years, Rederiet was the number-one rated show on Swedish television, along with the rival TV4 show Tre Kronor. The competition for viewers can be compared to that between Dynasty and Dallas.
Rederiet also gained popularity in Finland on YLE TV2, and the show was a hit in Norway too on TV2. The first season of the show was also sold to Egypt. The later seasons of the series were produced in collaboration with YLE, which led most notably to Finnish actor Åke Lindman appearing in the series. Rapper Ken Ring also appeared as an extra in the show in 1996.
On April Fools' Day 1993 SVT News announced that Mel Gibson was to play a lead role in the series. Gibson himself was interviewed and confirmed the information. It was later revealed that the whole event had been a joke.

Country:
Genre:
Queen Sugar
The series follows the life of two sisters, Nova Bordelon and Charley Bordelon, who, with her teenage son Micah moves to the heart of Louisiana to claim an inheritance from her recently departed father – an 800-acre sugarcane farm.

Country:
Genre:
Hell on Wheels
Hell on Wheels tells the epic story of post-Civil War America, focusing on Cullen Bohannon, a Confederate soldier who sets out to exact revenge on the Union soldiers who killed his wife. His journey takes him west to Hell on Wheels, a dangerous, raucous, lawless melting pot of a town that travels with and services the construction of the first transcontinental railroad, an engineering feat unprecedented for its time.

Country:
Genre:
The Last Ship
Their mission is simple: Find a cure. Stop the virus. Save the world. When a global pandemic wipes out eighty percent of the planet's population, the crew of a lone naval destroyer must find a way to pull humanity from the brink of extinction.

Country:
Genre:
The Last Tycoon
From F. Scott Fitzgerald's last work, The Last Tycoon follows Monroe Stahr, Hollywood's Golden Boy as he battles father figure and boss Pat Brady for the soul of their studio. In a world darkened by the Depression and the growing influence of Hitler's Germany, The Last Tycoon illuminates the passions, violence and towering ambition of 1930s Hollywood.

Country:
Genre:
Roots
An adaptation of Alex Haley's "Roots", chronicling the history of an African slave, Kunta Kinte sold to America and his descendants.

Country:
Genre:
Once Upon a Time in Wonderland
Once Upon a Time in Wonderland was an American fantasy-drama series that was created by writers Edward Kitsis and Adam Horowitz for ABC Studios. The program is a spin-off of Once Upon a Time and aired on ABC at 8:00 on Thursday nights in the 2013–14 television season beginning October 10, 2013.
The series is based around the Lewis Carroll fairytale classic Alice's Adventures in Wonderland but with a different twist from the other adaptations and takes place in the same universe as Once Upon a Time in present-day Wonderland, with flashbacks to pre-Curse Wonderland. As such, it is expected to follow the same setting as the parent series, including the use of Disney and Lost related allusions. In addition, the series will have crossover episodes with Once Upon a Time that will also involve a connection with the characters that are trapped in Storybrooke, Maine.

Country:
Genre:
Pure Genius
A young Silicon Valley tech-titan enlists a veteran surgeon with a controversial past in starting a hospital with a cutting-edge, new school approach to medicine.

Country:
Genre:
Ugly Betty
Ugly Betty is an American comedy-drama television series developed by Silvio Horta, which premiered on ABC on September 28, 2006, and ended on April 14, 2010. The series revolves around the character Betty Suarez and is based on Fernando Gaitán's Colombian telenovela soap opera Yo soy Betty, la fea.

Country:
Genre:
Dallas
J.R., Bobby and Sue Ellen Ewing are all back at Southfork, with plenty of secrets, schemes and betrayals in mind. This time, they're joined by the next generation of Ewings, who take ambition and deception to a new level.

Country:
Genre:
Ringer
Ringer is an American television series that initially aired on The CW from September 13, 2011 to April 17, 2012. The series stars Sarah Michelle Gellar, who plays twin sisters Bridget Kelly and Siobhan Martin. On May 13, 2011, it was reported that the project had been picked up to series by The CW. On October 12, 2011, The CW ordered a full first season of 22 episodes. On May 11, 2012, The CW announced the cancellation of Ringer.

Country:
Genre:
Shark
Shark is an American legal drama created by Ian Biederman that originally aired on CBS from September 21, 2006 to May 20, 2008. The series stars James Woods.

Country:
Genre: