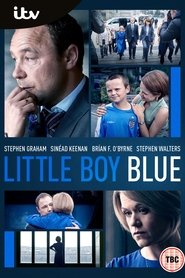 Little Boy Blue
Based on a true story, this four-part drama tells the story of the murder of 11-year-old Rhys Jones in Croxteth, Liverpool, in 2007. It explores Melanie's and Steve's ordeal, and tells of how Rhys' murderer and associates were eventually brought to justice.
Episodes: 3
Status: Returning Series
Seasons: 1
All Episodes
You may also like
Prime Suspect 1973
Prime Suspect 1973 tells the story of 22-year-old Jane Tennison's first days in the police force, in which she endured flagrant sexism before being thrown in at the deep end with a murder enquiry.

Country:
Genre:
Detroit 1-8-7
Detroit 1-8-7 is an American police procedural series about Detroit's leading homicide unit, created by Jason Richman for ABC. It features an ensemble cast of actors including Michael Imperioli and James McDaniel. The series originally ran on ABC from September 21, 2010 to March 20, 2011.
The show's executive producer, David Zabel stated, "This is a crime show but we will explore various nooks and crannies in the communities and within that context there's a lot of opportunity to see what's positive in the city and see what's heroic about the people fighting for what's best for the city of Detroit."
The 1-8-7 of the title is a specific reference to the California Penal Code designation for homicide, which has become a slang term for murder. The Michigan Penal Code designations for the various forms of homicide begin at 750.
On May 13, 2011, Detroit 1-8-7 was canceled by ABC. With the cancellation, series creator Jason Richman has said he is pursuing options for the series to continue on cable television, also stating that chances for the move are "slim".
The DVD set for the series was released on August 30, 2011.

Country:
Genre:
Chance
San Francisco-based forensic neuropsychiatrist Eldon Chance reluctantly gets sucked into a violent and dangerous world of mistaken identity, police corruption and mental illness.

Country:
Genre:
Pippi Longstocking
Pippi Longstocking is a TV series based on Astrid Lindgren's Pippi Longstocking children's books. The show ran for thirteen episodes, the first episode being broadcast 8 February 1969 on the then Swedish public service channel Sveriges Radio.
The series' theme song, "Here Comes Pippi Longstocking" was composed by Jan Johansson, with lyrics by Astrid Lindgren. The song was sung by series star Inger Nilsson.

Country:
Genre:
Slasher
Thirty years ago, in the sleepy community of Waterbury, a killer known as "The Executioner" murdered Sarah Bennett's parents. Now Sarah and her husband Dylan have returned to town, only to find herself the centerpiece in a series of horrifying murders centered around the seven deadly sins.

Country:
Genre:
X Company
An emotionally-driven character drama, set in the thrilling and dangerous world of WWII espionage and covert operations. It follows the stories of five highly skilled young recruits – Canadian, American and British – torn from their ordinary lives to train as agents in an ultra-secret facility on the shores of Lake Ontario. These agents parachute behind enemy lines, where they're fair game for torture and execution. From elegant hotels to hellholes in the field, it's one risky operation after another, masterminded by the brains of Camp X.

Country:
Genre:
Sherlock
A modern update finds the famous sleuth and his doctor partner solving crime in 21st century London.

Country:
Genre:
100 Code
New York, USA. Stockholm, Sweden. Over the past twelve months young, blonde, blue-eyed women have been found dead in a meadow where Asphodel flowers grow. New York Detective Tommy Conley gets a special dispensation from the NYPD to go observe and act as an adviser to the Stockholm Police Department in order to help solve these crimes.

Country:
Genre:
Salem
Set in the volatile world of 17th century Massachusetts, 'Salem' explores what really fueled the town's infamous witch trials and dares to uncover the dark, supernatural truth hiding behind the veil of this infamous period in American history. In Salem, witches are real, but they are not who or what they seem.

Country:
Genre:
JAG
JAG is an American legal drama television show with a distinct military theme, created by Donald P. Bellisario, and produced by Belisarius Productions in association with Paramount Network Television. The first season was co-produced with NBC Productions.
Originally conceived as a Top Gun meets A Few Good Men, the pilot episode of JAG first aired on NBC on September 23, 1995; but the series was later canceled on May 22, 1996 after finishing 79th in the ratings, leaving one episode unaired. Rival network CBS picked up the series for a midseason replacement, beginning on January 3, 1997. CBS's decision to air JAG proved to be a good move, as JAG for several seasons climbed in the ratings and was on the air for nine additional seasons. JAG furthermore spawned the hit series NCIS, which in turn spun off another hit, NCIS: Los Angeles.
In total, 227 episodes were produced over 10 seasons and JAG was during its 5th season seen in over 100 countries worldwide. JAG was so popular that it entered syndication early in 1999 and it is still regularly repeated.

Country:
Genre:
Lost
Lost is an American television series that originally aired on the American Broadcasting Company from September 22, 2004 to May 23, 2010, over six seasons which contained a total of 121 episodes. Lost is a drama series containing elements of science fiction and the supernatural that follows the survivors of the crash of a commercial passenger jet flying between Sydney and Los Angeles, on a mysterious tropical island somewhere in the South Pacific Ocean. The story is told in a heavily serialized manner. Episodes typically feature a primary storyline on the island, as well as a secondary storyline from another point in a character's life.

Country:
Genre:
Gomorrah
Based on Robert Saviano's bestselling book, this gritty Italian crime drama paints a portrait of the brutal Neapolitan crime organisation the Camorra, as seen through the eyes of Ciro Di Marzo, the obedient and self- confident right-hand man of the clan's godfather, Pietro Savastano.

Country:
Genre: